The Venue
The Symposium will take place at the Great Arsenali Conference Center, located in the old Venetian harbor of Chania on the island of Crete, Greece.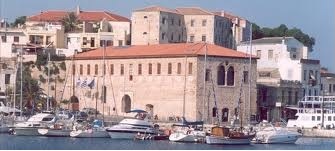 The Great Arsenali was built in 1595, one of seventeen dockyards, and is among the few still standing. Over the years the building has served as a customs office (early 1800s), a school (1872), a theater (1892), a hospital (1923-1928) and the mayor's hall (1928-1941). Nowadays, it houses the Center of Mediterranean Architecture (in Greek, KAM) and hosts exhibitions and conferences.
The city of Chania is one of the oldest cities in Greece and has a rich history of cultural diversity. Its architecture reveals the Minoan civilization (ca. 1500 BC), the Arab occupation (823-961 AD), the Byzantine period (961-1252), the Venetian occupation (1252-1645) and the Turkish occupation (1645-1897). More about Chania may be found here.